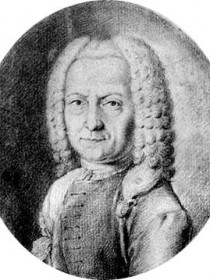 One of the fascinating aspects of Jewish music in the Italian Renaissance is the fact that just as Jewish composers such as Salamone De Rossi brought the music of the church to the synagogue, Christian composers such as Benedetto Giacomo Marcello brought the synagogue to the church. The Venetian-born Marcello (1686-1739) led a dual career as a well-known aristocratic politician and noted composer of Italian church music. In his masterpiece, Estro poetico-armonico (1724-1727), a setting of the first fifty Psalms for voices, figured bass, and various instrumental soloists, he drew directly on contemporary Jewish religious music for inspiration. In search of traces of the lost music of antiquity, he turned to the Venetian Jewish community, transcribing and setting some 11 Hebrew melodies from the Tedesco tradition (Italian Jews of Ashkenazi descent), that he believed derived from the ancient Temple in Jerusalem. In his score, he carefully printed them from right to left to follow the logic of the Hebrew language.

Its elegant beauty aside, what is exceptional about Marcello's composition is that these melodies are one of the earliest extant Jewish musical notations of any kind. Traditionally Jews relied only on oral transmission; it would be nearly another century before regular use of Western-style musical notation began. This composition features Marcello's transcription of Ma'oz Tzur, a Jewish piyyut (liturgical poem) written in the 12th century for the holiday of Hanukkah. The melody was known only among Italian Tedesco Jews and used down to modern times. Marcello interpolated this song into his own setting of Psalm 15 (Psalm 16 in the traditional Jewish reckoning), creating a nice contrast between ornate Italian psalm and simple Hebrew chant, which are then combined in the final verse of the piece.
Marcello's composition went on to great popularity throughout Europe, earning translations into French, German, Swedish, English, and Russian. Among its fans was Goethe, who heard the piece performed in Rome's Sistine Chapel and remarked that the chants were "extraordinarily original, though one has to acquire a taste for them."
In Pro Musica Hebraica's fall 2009 concert, we presented this rare composition in performance by the Apollo Ensemble of Amsterdam. You can listen here to enjoy an excerpt of the live rendition, in which Italian Baroque and Jewish medieval meet up:
[audio:https://promusicahebraica.org/wp-content/uploads/maoz.mp3|titles=Ma'oz Tzur]
Salmo 15/ Ma'oz Tzur (Intonazione degli Ebrei Tedeschi) (Psalm 15/ O Mighty Stronghold, a German Jewish Chant) (1724-1727) [from a recording of the Apollo Ensemble of Amsterdam, Jewish Baroque Cantatas (2001)]
Marcello Psalm 15/Ma'oz Tzur text:
V.l: Lord, may You keep me, compassionately, from evil people that besiege me from all sides, for I have placed my hopes in You only. I have always said: You are my Lord, because my integrity is Your gracious gift, and my righteous acts, are not profitable or gainful to You.
V.2: Through the others, who promised, just as I did, to dedicate their lives here on earth to You, You showed Your will and mine, in a wondrous and glorious manner.
V.3: In them the bitter weaknesses grew, that surround this wretched mortal life from all sides, and these were the incentive that made them quicken their step towards You.
V.4: I have not participated in bringing bloody offerings that moisten the profane altars of strange gods: let every memory of them disappear, and let the world liberate itself
V.5: You, my Lord, only You are my inheritance; my happiness rests in You; for You ensure me of a place in the kingdom that You have promised me.
V.6: Nothing is greater or more splendid than the fate that is conferred upon me and the inheritance that You will give me.
V.7: Blessed are You. Oh Lord, who, from Your infinite wisdom with divine light, enlightened my spirit; and in the frightening, dark night of the sick and evil world, and in the multitude of emotions that surround me in accordance with Your divine will.
V.8: Though besieged by pain and danger, this is how I always kept my eyes on You, my only light. You were my support to my right side.
V.9; So let the heart fill with joy and the lips open in joyful singing; and let the frail body find peace in the certain hope that soon it will arise.
V.10: No, You will not allow that my soul, so dear to You is incarcerated in hell, that my mortal remains see the ruin of Your holiness.
"Ma'oz Tsur"
Refuge and rock, my tower of strength, it befits us to sing Your praises.
Restore the House of my prayers, so that we can give thanks there. When You have prepared the place where that terrible enemy shall be beaten.
I will dedicate the altar again, while singing hymns. My soul has long been filled with sorrow, my powers slowly ebbed away from distress. Egypt left me feeling bitter because of its cruel slave labour. But He liberated me with all His might and glory and made them His own people.
V.ll: The straight path of life, was shown to me by Your mercy; and so my heart will always be jubilant from elevated joy when I shall stand before You. And in such bliss, on Your right side, shall be happy to my eternal delight.