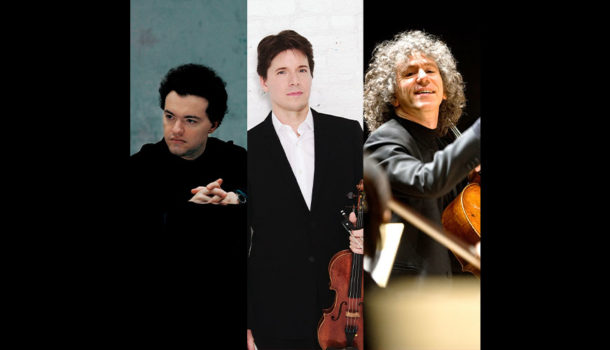 Event Update—May 5, 2021, 3PM ET: Please note that this event will no longer stream on the originally scheduled dates of May 21–27. At this time, no tickets to the performance are on sale.
For personal reasons, the artists were unable to gather to record the program in time for the originally scheduled streaming dates. However, they are eager to bring this program to you, so we are working with their representatives to schedule a new and timely recording date. If we are able to reschedule a new recording date, new streaming dates will be announced in this space and in our social media. All current ticket-holders will be contacted directly, and all tickets for the May 21-27 dates will be honored for the new dates.
If we are unable to reschedule the concert recording, we will officially cancel the event, and all current ticketholders will be contacted directly with information on next steps.
We will post a further update as soon as possible—and, of course, we hope to announce positive news! In the meantime, we thank you for your patience as we and the artists strive to reschedule the event. For any questions, please contact PatronServices@WashingtonPerformingArts.org (business hours are weekdays, 9:30AM-5:00PM ET).
---
Musicians
Evgeny Kissin, piano
Joshua Bell, violin
Steven Isserlis, cello
Concert Summary
Presented in partnership by Pro Musica Hebraica and Washington Performing Arts
Three masters of classical music unite for an emotionally powerful and musically diverse presentation focusing on themes of vibrant Jewish life, memory, and loss. To be recorded in early May on the stage of Barcelona's Palau de la Música Catalana, an early-20th-century masterpiece of the Catalan Art Nouveau, the performance will be shared online for the first time ever in this Home Delivery Plus presentation.
The first section of the Headline Artist program includes works inspired by Jewish folk songs and liturgical melodies, beginning with the full trio in Solomon Rosowsky's alternately stately and festive Fantastic Dance. The program continues with two evocative duo works by Ernest Bloch: Suite from Jewish Life (performed by Steven Isserlis and Evgeny Kissin) and Nigun (performed by Joshua Bell and Kissin). Kissin will then offer a reading of Yiddish poetry, memorializing a lost way of life.
The program's second section memorializes the Holocaust in an unforgettable classic by Dmitri Shostakovich, the Piano Trio No. 2 in E minor, Op. 67—a work inspired by the loss of a great friend and by the world's discovery of the horrors of the Nazi concentration camps.
Concert Program
ROSOWSKY – Fantastic Dance for Piano Trio, Op. 6
BLOCH – Nigun
BLOCH – Suite from Jewish Life
SHOSTAKOVICH – Piano Trio No. 2 in E minor, Op. 67
Featuring a Headline Artist performance plus:
Soundcheck: The Arts, Undistanced: Wynton Marsalis in conversation with Steven Isserlis—part of a new WPA series.
Linger Longer: Panel discussion on "Lost Culture," featuring Evgeny Kissin and a number of experts on Jewish history and culture.