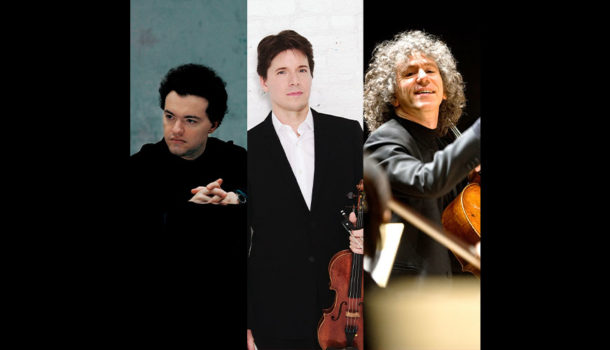 Webcast premieres May 21, 2021 at 8:00pm
and available thereafter through May 27, 2021
Tickets are available through Washington Performing Arts starting December 3, 2020
at: washingtonperformingarts.org
At such point in the series as local health authorities and venue hosts judge it is safe for live audiences to gather for physically distanced performances, patrons may be welcome to purchase separate tickets to attend in person, even as the digital programming continues.
Musicians
Evgeny Kissin, piano
Joshua Bell, violin
Steven Isserlis, cello
Concert Summary
Presented in partnership by Pro Musica Hebraica and Washington Performing Arts
Three masters of classical music unite in the magisterial space of the Kennedy Center Concert Hall for an emotionally powerful and musically diverse presentation focusing on themes of vibrant Jewish life, memory and loss.
The first half of the Headline Artist program includes works inspired by Jewish folk songs and liturgical melodies.
It will feature stirring performances by Bell and Isserlis of duo works by Russian Jewish composer Joseph Achron and two evocative pieces by Ernest Bloch: Suite from Jewish Life and the Baal Shem Suite. Evgeny Kissin will then offer readings of Yiddish poetry memorializing a lost way of life. These readings continue a tradition he began in a stunning first Concert with Pro Musica Hebraica in 2014.
The program's second half addresses the loss of the Holocaust. It begins with Piano Trio, Op 63, by Mikhail Gnessin, and concludes with the unforgettable classic by Dmitri Shostakovich, the Piano Trio No. 2 in E Minor, Op 67, inspired by the loss of a great friend and by the world's discovery of the horrors of the Nazi concentration camps.
Concert Program
ROSOWSKY: Fantastic Dance, Op 6
ACHRON: Two Little Duets for Violin and Cello
BLOCH: Suite from Jewish Life
BLOCH: Baal Shem
Intermission
GNESSIN: Piano Trio, Op 63
SHOSTAKOVICH: Piano Trio No. 2 in E minor, Op 67
An insightful "Linger Longer" panel follows. The discussion will center on "Lost Culture." It will feature Evgeny Kissin and a number of experts on Jewish History and culture.