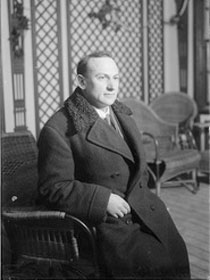 Arnold Schoenberg and Jascha Heifetz considered him one of the greatest composers of their generation. He developed a revolutionary new system of playing the violin, which is now considered commonplace. He was one of the most celebrated and influential Jewish nationalist composers and was among the first to incorporate ancient Jewish trop (liturgical chant) into modern concertos, chamber music, and art songs. Today, hardly anyone knows who he is.

 His name is Joseph Achron, the eldest son of a Lithuanian chazan (cantor), and he is one of the greatest composers of the early 20th century.
You may have heard Achron without knowing it. His early "Hebrew Melody" for violin and piano, became world-famous in the 1910s and 1920s, recorded by the likes of Heifetz and Josef Hasid. The piece continues to be performed today by the great violinists such as Itzhak Perlman and Gil Shaham. Remarkably, you can find over 50 versions on YouTube alone – including transcriptions for dozens of other instruments, among them the theremin.
Given that "Hebrew Melody" is so popular, it's a mystery that so few of his other works have been published and recorded, and his life so neglected in academic literature. There are no comprehensive biographies on his life, and his name isn't mentioned in the standard music history textbooks.

 In May 2010, the Joseph Achron Society was founded as a solution to this problem. By publishing Achron's manuscripts, funding new scholarship, producing a website with online resources, and facilitating performances, the society aims to restore Achron's name to its rightful place in the standard classical repertoire. For example, with the assistance of Pro Musica Hebraica, we have just published our own performance edition of Achron's manuscript Third Violin Concerto, which was commissioned by Jascha Heifetz in the early 1930's. On May 27, this concerto received its first performance in over 70 years, by the Brandenburg Symphony Orchestra, using the Achron Society's edition.
Now, we are preparing an edition of Achron's fascinating concert-transcriptions of 11 Paganini Caprices for violin and piano, also previously unpublished, several of which recently received their New York premiere. This edition will feature Achron's own extensive bowings and fingerings, including his previously unusual but now commonplace fingering for the chromatic scales. There are many other such pieces awaiting further exploration, including Achron's string quartet works, one of which received its modern premiere at Pro Musica Hebraica's Spring 2009 concert.
As a unique voice in twentieth-century music and an important pioneer in the field of Jewish classical music, Achron is now poised for a new round of rediscovery. We look forward to watching his other masterpieces take their place alongside "Hebrew Melody" in concert programs and in new recordings, as well as in the postmodern canon of YouTube clips.
Guest contributor Samuel Zerin is a Ph.D. candidate in musicology at New York University and founder of the Joseph Achron Society. For more information about Joseph Achron and to get involved in our project, please visit JosephAchron.org or e-mail info@JosephAchron.org.