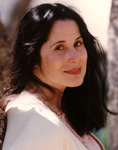 Montserrat Figueras, the Catalan early music soprano, died November 23 at her home in Bellaterra, Spain. She was 69.

Together with her husband, Jordi Savall, she pioneered a new approach to early music. Dedicated to revitalizing a forgotten and neglected repertory, they founded the ensemble Hespèrion XX (later XXI) in Basel in 1974. Since then, the group has laid down a model for medieval music and art song. The group revived the music of 16th and 17th-century Spain, as well as that of Sephardic, Aramaic and old Italian texts. In 1976, they released a 2-LP recording titled Music from Christian and Jewish Spain. While there is no known Jewish musical piece from the Peninsula before the 1492 expulsion, the group undertook "a sincere attempt to realize a performance practice…that was known to exist on the Peninsula." The group has since released Sephardic Diaspora, an account of Jewish music of eastern Mediterranean origin (including Greece, Turkey, Iraq, and Bosnia).
From the New York Times obituary:
In concerts all over the world and on dozens of definitive recordings, Ms. Figueras and Mr. Savall aimed at nothing less than bringing back to life a largely forgotten repertory. Along with other groups that emerged in the 1980s, like William Christie's Arts Florissants, theirs were devoted to playing early music not just with authentic instruments and technique but also with authentic style and energy. Allan Kozinn wrote in The New York Times in 2006 that "the work Mr. Savall and his musicians do is not simply a matter of revival, but of imaginative reanimation."
From Gramophone:
Followers of their work came to expect, and were rewarded with, musically thrilling performances rich in vitality and exploratory inventiveness.

The label become known for beautifully recorded and presented releases of thoughtfully-curated thematic projects, not just of Spanish music, but exploring the links between early music and other areas and genres, whether of Europe or regions including the Middle East.
Click on the video below to hear an anonymous sephardi song ("Lavava y sospirava") played by Hespèrion XXI and sung by Montserrat Figueras: