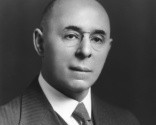 Professor Jenna Weissman Joselit writes in The Forward on the importance of revisiting the works of the influential composer Lazare Saminsky:

Once a household name within sophisticated, European musical circles, Saminsky, a polymath if ever there were one — whose talents extended to composing, conducting and beating the drum for a transnational Jewish culture — deserves a second hearing. After all, growing numbers of American Jews are paying more and more attention to their musical patrimony. Witness the warm online reception given to the forthcoming documentary "'Hava Nagila' (The Movie)." Or consider the exhaustive efforts of, among others, the Idelsohn Society for Musical Preservation and Pro Music Hebraica to retrieve, maintain and perform the compositions of an earlier era. To deepen our understanding of the historical context in which this music was embedded, we would do well to reckon with Saminsky's passionately held views on what constituted genuine Jewish musical expression. At the very least, they are certain to raise an eyebrow or two.
Jenna Weissman Joselit is the Charles E. Smith Professor of Judaic Studies & Professor of History at the George Washington University, where she also directs its Program in Judaic Studies and its brand new MA in Jewish Cultural Arts. The very first such program of its kind in the entire country, GW's MA in Jewish Cultural Arts provides a new generation of aspiring artists, social entrepreneurs and arts administrators with the intellectual capital and  skills to build on and sustain the rich, complex and vibrant cultural patrimony of the Jews. The two year program offers a wide array of courses, internships and public programs that take advantage of everything that DC has to offer. For more information, visit their 
website
. On their blog, you can learn more about the
MA program
 and read about Weissman Joselit's involvement in a 
two-day seminar
on Yiddish radio at the Library of Congress on September 6th and 7th.