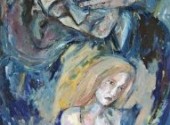 Mark Glanville and Alexander Knapp will perform at St. John's Smith Square in London this Saturday, October 6th. Following their critically acclaimed "Yiddish Winterreise," performed at Pro Musica Hebraica's Spring 2011 concert, Glanville (bass baritone) and Knapp (piano) turn to "Die Schone Mullerin," recreating the Schubert cycle with songs from the Yiddish tradition.
You can purchase tickets here, and visit their website for more information about the concert and their recent CD release.
UPDATE (10/9):  Sarah Reid reviews the concert. Here's a taste:
 Glanville captured perfectly the characteristic melancholy of Yiddish music. His bass-baritone voice projects very well: it is powerful yet not overbearing….For Glanville, this concert has a doubly personal meaning to him: not only is he performing the music of his ancestors, but it was Schubert's Lieder that first inspired him to become a singer. It was in the knowledge of the artists' personal attachment to the project that I really became captivated in the performance.

Knapp's imaginative piano arrangements are highly intricate yet still flow beautifully. As with Schubert's original Die Schöne Müllerin, I had the impression that the piano is far more than just a simple accompaniment. It is as much involved in the storytelling as the voice and retains a certain faithfulness to the original Yiddish song. With three postgraduate degrees from Cambridge and having taught and published widely on the subject of Jewish music, Knapp is a world expert in the field.
Read the whole thing here. And you can purchase their CD here.