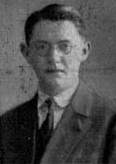 Everyone knows the name "Schoenberg." We recognize it instantly as the surname of Arnold Schoenberg, one of the most important composers of modern times. Because of his artistic stature, and his various later inclusion of Jewish themes in his work, Jews love to claim him as a Jewish composer. But it turns out there was more than one "Schoenberg" in classical music in the first half of the twentieth century. And the other Schoenberg's story is arguably even more central to the story of Jewish music in our own time.
You won't find the name "Jakob Schönberg" in any musical encyclopedia. His compositions are not in the great music libraries of the world. Most musicologists have never heard of him. And yet as a composer, scholar, and critic, he did more to shape the fate of Jewish music in the 1920s and 1930s than any other individual musician. Born in the Bavarian city of Fürth, Bavaria in 1900, he learned cantorial traditions from his father, a lay cantor. He studied in Jewish and secular schools, and went on to pursue degrees at the Technical University in Darmstadt and the University of Berlin. In 1925 he completed a doctorate thesis on "Traditional Songs of Jewish Worship in Germany" at the University of Erlangen. In this dissertation, he pointed out the pentatonic foundations of biblical cantillation, making him the first scholar to study German Jewish synagogue music and observe its links to Middle Eastern musical traditions. He went on to become the first musicologist in Germany to systematically study the new Jewish folk music of Palestine.
Schönberg's academic research fed directly into his artistic style. As a composer, he began to compose in an overtly Jewish national style.  His works, in which elements of Palestinian Jewish folklore were incorporated, were regarded in Germany in the 1930s as the first successful examples of a modern school of Jewish art music. Beyond composition, Schönberg also performed as a pianist widely and worked as a radio consultant and film scorer. After 1935 he became the chief music critic of the Berlin Zionist newspaper, the Jüdische Rundschau. After the Nazis rose to power Schönberg lost all of his professional positions. He turned more exclusively to composition and a quest for a new sound to match the Jewish national rebirth taking place in Europe and Palestine. His musical anthology, "Schirej Eretz Israel" (Songs from the Land of Israel) was published in 1935 in Berlin and achieved widespread popularity. Schönberg also produced his most important work in this period the three-movement, "Chassidic Suite" for piano (1937), which he revised in the same year for large orchestra. The orchestral version was then performed several times during the events of the Jewish cultural societies in Berlin and Frankfurt.
All of this work as a scholar, critic and composer shaped a new ideal of stylistic sophistication and cultural richness for Jewish art music in the interwar era of German Jewish culture. Even as the Nazi persecution of the Jews had begun, a musical renaissance continued to develop. Yet it came to an abrupt end. In Schönberg's case, he fled to England in 1939 and after World War II resettled in New York City. There he worked as a music teacher at the private Trinity School, before succumbing to a brain tumor in 1956.
Given all his pioneering labor and public activity, why did Schönberg disappear from the historical record so completely? It wasn't simply that the Nazis tried to erase Jews from the historical record of German music. Even after the war, when there were limited efforts by postwar German scholars to rectify the cultural amnesia of the Jewish presence in German musical life, artists such as Schönberg were omitted from the famously comprehensive, even obsessive, German musical dictionaries and encyclopedias. Why? The answer is that even then Schönberg was too Jewish to fit the standard of German musical culture. If he had been one of those Jewish musicians who didn't make any use of Jewish musical idioms in his work and only pursued universalist themes, he might have had a better chance of being rehabilitated. Schönberg's Zionism was another strike against him. The already sketchy memory of postwar Germany was limited to those persecuted Jewish artists who defined themselves as German. The Jewish music in Germany – a most fruitful and significant facet of German culture even up to the end of the 1930s, albeit "caged" in the cultural ghetto of Jewish society – was after the war deliberately excluded from the German cultural awareness.
Today it is an honor and a pleasure to introduce the music of Jakob Schönberg to contemporary audiences. The November 3rd Pro Musica Hebraica concert will include the American premiere of his "Chassidic Suite," permitting a vital voice from the Jewish musical past – and a forgotten Schönberg – his chance to reenter the annals of classical music history.
Jascha Nemtsov is a pianist and musicologist who specializes in performing Jewish art music and Russian music of the 20th century. He will perform in Pro Musica Hebraica's November 3rd concert. To order tickets, click here.