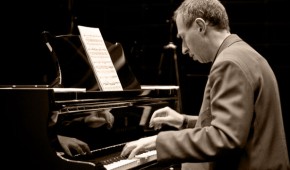 Terrace Theater
The John F. Kennedy Center for the Performing Arts
Washington, D.C.
November 3rd, 2011
Musicians
Jascha Nemtsov, piano
Julian Arp, cello
Frank Reinecke, violin
Alexander Fiterstein, clarinet
Concert Summary
Free Pre-Concert Lecture:
Arnold Schoenberg's Worst Nightmare: Jewish Musical Modernism in Interwar Europe
A lecture by Dr. James Loeffler
6-7 PM North Atrium Foyer (Terrace Theater level)
Berlin-based pianist and musicologist Jascha Nemtsov, a leading international authority on the Russian Jewish national school of composers, brought an all-star ensemble of European musicians to explore the lost generation of European Jewish composers who sought to forge a Jewish Romantic style of classical music in 1920s and 1930s Central and Eastern Europe. In contrast to the common clichés about interwar European Jewish composers as arch-modernists and cultural cosmopolitans who favored an abstract universal aesthetic, Nemtsov and his colleagues presented a group portrait of an extraordinary fertile cohort of Jewish composers who might be called the "last Romantics" of European classical music.
Tapping directly into their Jewish cultural heritage, particularly the rich seams of Yiddish folklore from Eastern Europe, these composers produced a startling yet forgotten strand of twentieth-century Romantic music. This concert focused on these composers, all of whom came of age in post-World War I East Central Europe, and went on to make homes and careers in Berlin, Vienna, Moscow, and Jerusalem. They form a counterpoint to the more familiar Second Viennese school of icons such as Arnold Schoenberg and Alban Berg. They also reflect the profound influence of Jewish nationalism on the first modern generation of Jewish musicians in search of a new kind of modern Jewish music.
The concert included the world premiere of a new arrangement of the masterful "Hebrew Suite" by Julius Chajes, a Polish-born pioneer in early history of Israeli art music, prepared by contemporary German Jewish composer Sarah Nemtsov in honor of the centenary of Chajes's birth; the American premiere of the "Chassidic Suite" for solo piano by Jacob Schoenberg, a cousin of Arnold Schoenberg and prominent early German Zionist artist; and the great Soviet Jewish composer Mieczysław Weinberg's famous and beloved "Piano Trio," now widely regarded as a recovered classic of twentieth-century chamber music.
Other highlights of the concert included performances of rare works by early Soviet Jewish composers Alexander Krein and Alexander Veprik, and Juliusz Wolfsohn's Lisztian piano rhapsodies, "Paraphrases on Old Jewish Folk Tunes."
Program
Joachim Stutschewsky

Jewish Song + Freilachs for cello and piano

Juliusz Wolfsohn

Two Paraphrases on Old Jewish Folk Tunes for piano solo

Mieczysław Weinberg

Trio op. 24 for piano trio

Intermission

Alexander Krein

Elegie for piano trio

Alexander Veprik

Chant rigoureux for clarinet and piano

Jacob Schoenberg

Chassidic Suite for piano solo (American premiere)

Julius Chajes, arr. Sarah Nemtsov

Hebrew Suite for piano trio and clarinet (world premiere of new arrangement)