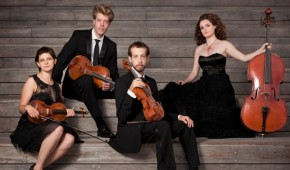 Terrace Theater
The John F. Kennedy Center for the Performing Arts
Washington, D.C.
November 11th, 2012
Musicians
Alexandra Kazovsky, violin
Gershon Gerchikov, violin
Amit Even-Tov, cello
Jan Grüning, viola
Orion Weiss, piano
Concert Summary
In 1945, Austrian-born film composer Erich Korngold sat down in Los Angeles to write his Third String Quartet. He chose as a principal melody the theme from the film Between Two Worlds, a perfect metaphor for a life split in two, bisected by war and exile, tragic past and uncertain future.
Korngold's two worlds aptly sums up the theme of Pro Musica Hebraica's fall concert: the shared experience of a formidable generation of Jewish composers—Arnold Schoenberg, Ernest Bloch, and Erwin Schulhoff—who passed from the vibrant world of fin-de-siècle Vienna, Prague, Berlin, and Paris into the heart of Europe's twentieth century's terrors. These composers responded to their tumultuous world by drawing from the reserve of their Jewish heritage and producing startlingly original—yet largely forgotten—music.
To explore this legacy, Pro Musica Hebraica partnered with one of the most dynamic young string quartets of our day, the Ariel Quartet. Natives of Israel, they were joined by the young virtuoso pianist Orion Weiss.
Concert Program
SCHULHOFF: Quartet No. 1
SCHOENBERG: Three Pieces for Piano (Drei Klavierstucke, No. 2 "Massig")
KORNGOLD: Quartet No. 3
BLOCH: Piano Quintet No. 1
"[Ariel Quartet is] a consummate ensemble gifted with utter musicality and remarkable interpretive power."
—The American Record Guide
"[Orion Weiss is] a gifted musician well worth keeping an eye on."
—The Washington Post