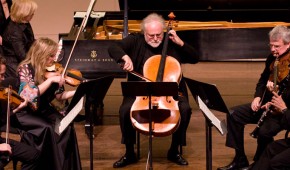 Terrace Theater
The John F. Kennedy Center for the Performing Arts
Washington, D.C.
November 18th, 2008
Concert Summary
On November 18, 2008, Pro Musica Hebraica proudly presented ARC – the ensemble-in-residence of Canada's Royal Conservatory of Music – in the second concert of its acclaimed new series devoted to Jewish composers. The Grammy-nominated ARC, performed two major wartime works by the enigmatic, twentieth-century master Mieczysław Weinberg (1919-1996), a Polish Jewish émigré to the Soviet Union whose music has frequently drawn comparisons to his friend and mentor, Dmitri Shostakovich. They paired these unknown masterpieces, the Sonata for Clarinet and Piano (1947) and the Quintet for Piano and Strings (1944) with the haunting Passacaille of Szymon Laks (1901-1983), composed in Paris in 1947, shortly after his liberation from Auschwitz. Joining these works was another piece written in the aftermath of World War I and one of the most famous pieces of Jewish music to emerge from the pen of a non-Jewish composer, the Overture on Hebrew Themes (1919) by Sergei Prokofiev (1891-1953).
This concert also featured a surprise American premiere of an extremely rare work by the Hungarian Jewish composer Sándor Vándor, whose music has only recently been recovered and is completely unknown, even in Hungary. Vándor was born in 1901 in Miskolc, Hungary. He studied in Leipzig with Paul Graener (who would later take a position with the Reichsmusikkammer) and worked in Italy as a vocal coach and conductor. He returned to Hungary in 1932, took over the highly regarded Szalmás Choir and became an influential figure in Hungarian musical life. He was rounded up to work in a forced labor camp in November 1944 and died of exhaustion at Sopronbánfalva in Western Hungary, two months later – just days before the liberation of Pest. In Washington, the ARC Ensemble performed his piece "Aria," for cello and piano.
ARC is the ensemble-in-residence of Canada's Royal Conservatory of Music; its members are all soloists and chamber musicians and senior faculty members of the Glenn Gould School, the Conservatory's professional training division. Performers for this concert will be violinists Erika Raum and Marie Bérard, violist Steven Dann, cellist Bryan Epperson, clarinetist Joaquin Valdepeñas, and pianists David Louie, piano and Dianne Werner under the direction of Artistic Director Simon Wynberg.
Concert Program
Sonata for Clarinet and Piano, Op. 28 (1945)

I. Allegro
II. Allegretto
III. Largo

Joaquin Valdepeñas, clarinet
Dianne Werner

Overture on Hebrew Themes (1919)

ARC Ensemble

Piano Quintet, Op. 18 (1944)

· Moderato con moto
· Allegretto
· Presto
· Largo
· Allegro agitato

ARC Ensemble