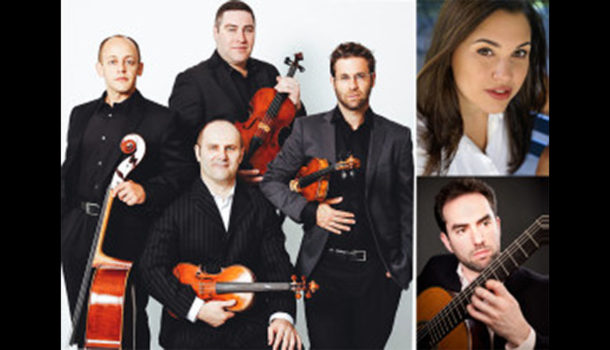 Terrace Theater
The John F. Kennedy Center for the Performing Arts
Washington, D.C.
November 23rd, 2015
Musicians
Amernet String Quartet
Misha Vitenson, violin
Tomas Cotik, violin
Michael Klotz, viola
Jason Calloway, cello
with
Rachel Calloway, mezzo-soprano
Adam Levin, guitar
Concert Summary
There is an old Spanish-Jewish proverb, "He who thinks too much will never reach Jerusalem." For centuries, the Jews of medieval Spain lived this truth. Even as they revived biblical Hebrew and carved bold new paths in Jewish philosophy and religious mysticism, their piety mixed easily with a profound worldliness.
Pro Musica Hebraica presented an evening of medieval Sephardic ballads and modern masterpieces played by the Amernet String Quartet with friends mezzo-soprano Rachel Calloway and guitarist Adam Levin.
The concert featured a number of works by Mario Castelnuovo- Tedesco (1895–1968), the Italian Jewish composer whose family fled Spain in 1492, including the famous Guitar Quintet, his Second String Quartet, and songs from his Divan of Moses Ibn-Ezra Suite. The legacy of Sephardic song was highlighted in the world premiere of acclaimed composer Ljova's (b. 1978) re-envisioning of the classic Ladino art songs of Alberto Hemsi (1898–1975) for voice and string quartet and Joaquín Rodrigo's (1901–1999) Cuatro canciones sefardíes, paying homage both to his native Spain and his wife's Sephardic heritage, in a new voice and guitar arrangement — together with the lively Secuencia Sefardita for solo guitar by contemporary Spanish composer Carlos Cruz de Castro (b. 1941).
Performance Timing: Part One – 45 min.; Intermission – 15 min.; Part Two – 45 min.
Concert Program
RODRIGO: Cuatro canciones sefardíes (1965), arr. for voice and guitar by Nestor
CRUZ DE CASTRO: Secuencia Sefardita for solo guitar (2010)
CASTELNUOVO-TEDESCO: Quintet for Guitar and String Quartet, Op. 143 (1950)
INTERMISSION
CASTELNUOVO-TEDESCO: Selections from the Divan of Moses Ibn-Ezra (1966), arr. for voice, guitar, and string quartet by Cohen
CASTELNUOVO-TEDESCO: Second String Quartet (1953)
TRAD.: Blanca Niña (2015), arr. Hemsi & Ljova for voice and string quartet (World Premiere)